MX Bites / December 2, 2021
The importance of achieving employee satisfaction for every organization could be a variety of several reasons, but they ultimately determine one thing: their happiness to perform. And If employees like what they are doing, they put in more effort. When they put in more effort, they are more likely to succeed and be more satisfied. 
It is understood that employee satisfaction is useful for all organizations/enterprises whether it is a small business, new start-up, or multinational corporation. That leaves the question dangling about, what does employee satisfaction mean, and how does one succeed at achieving it?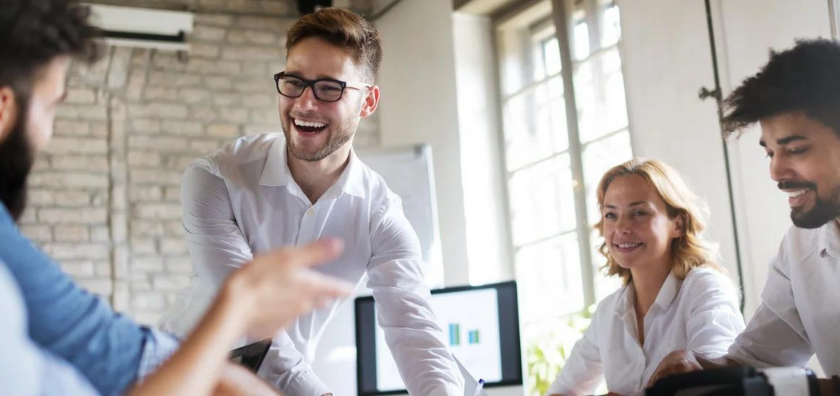 It is important to note that employee satisfaction is about the state of mind of an employee at the workplace, and this extends to their personal lives too. It does not always equate to a pay raise, or whether the benefits are suitable but rather a holistic overview of the psychological well-being of a person. Thus, making it a little tricky to measure employee satisfaction. 
Factors relative to the measuring floorboard are: 
Enjoyment of the job by an employee

Satisfaction over levels and quality of supervision

Feeling safe and secure at the workplace

Ability to perform the role well

Adequate resources necessary for daily working

Commitment to making a lengthy career with the employer 

Career advancement opportunities

Prospects for financial growth
While the points listed line up in a likable manner, it is essential to note that a business's goals should correspond with its desire to achieve employee satisfaction. Focusing merely on employee satisfaction without factoring in the organization's goals for growth, expansion, and greater profitability can create some form of risk. 
---
Having given the above some thought, here are things worth considering as to why you should aim for employee satisfaction:
1. Rising hiring cost
The cost of hiring an employee could lie between $7000 to $50 000 depending on their level of expertise and their role in the workplace. The variables are the hiring processes, whether you have used an external recruitment agency or handled internally to shortlist candidates, furthermore, the interviews and training until the new hire fits into their role and starts performing well thus, making it imperative to retain existing employees, especially top talent within the business.
2. Reducing the rate at which people leave
It is a known fact that employees leave if they are unhappy in their workplace needless to say – this will lead to hiring costs to fill the role. According to Investopedia, it can take up to six months or more for a company to break even on its investment in a new hire, factoring in low productivity levels would be a valid point of consideration too that being said, high employee satisfaction is known to help retain the best talent while developing loyalty to your business.
3. Employer reputation Stardom
Employee satisfaction directly translates to a good reputation for employers. Since satisfied employees also spread a good word about the employer through word-of-mouth. This makes it easier for businesses that have an elevated level of employee satisfaction to attract the best talent and sometimes,  attract prospective employees with vital skills from competitors to their own companies. Workplaces with high employee satisfaction rates also find it easier to get fresh recruits quickly whenever they announce a vacancy through job boards.
---
How do you improve employee satisfaction? Listen. Listening to employees' concerns can help you develop retention strategies that focus on boosting employee morale. With a solid employee experience program in place that encourages active listening of employee concerns, and acting on those insights that you discover, you can have a positive impact on your understanding of your employees and what it takes to keep them satisfied.