MX Bites / May 4, 2022
In today's world, customers are spoilt for choice with the many options available as to where they spend their time and money. The importance of valuing your customer is important for many reasons, as they contribute to the overall success of your business.  Everyone likes to feel appreciated, and customers are no different in this regard. The effectiveness of nurturing the ongoing emotional relationship between you and your customers leads to developing deep brand loyalty thus being the by-product of a positive experience with you. 
Understanding the customer journey map
As it is often referred to as the buyer's journey, or user journey – the customer journey map is essentially a visual representation of the processes by which a customer undergoes thus, helping you to tell the story of the experiences they have with your brand at every touchpoint or stage. The road map tells the unique story of how each customer interacts with your products and services. The goal in mapping the journey is to remove any obstacles in order to make the process efficient therefore creating the simplest path.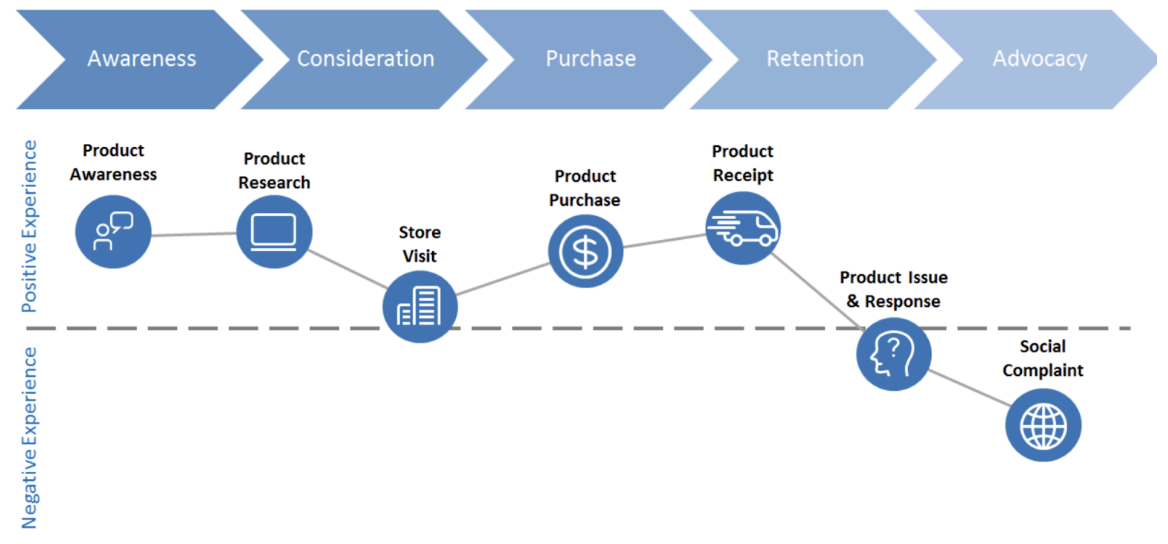 In this post, we'll be breaking down key aspects involved in the mapping journey to consider focusing on,  giving you a peer into the basis of each concept;
1. Focusing on CX
Excellent customer service has become crucial for brands to survive, especially since customer expectations have evolved, expecting communication across multiple channels. With product offerings becoming similar, what sets businesses apart is how we respond to consumer needs. A mandate for every business should be to provide excellent experiences for their customers. Feedback provides them with insights into how their customers actually think and behave, making it easier to plan, create, and improve the customer experience for maximum payoff.
2. The emotional journey 
Emotions play a vital part in the customer experience journey, ultimately translating to both positive and negative experiences. Customers with a positive emotional experience will advocate for your brand thus, making it imperative to factor in the emotionality pertaining to their experience with you. Emotional CX is the primary influencer, and while it can be somewhat tricky to measure, identifying the specific stage of when a positive emotion occurs can give insight into whether that particular process functions well, the polarity, therefore, highlights aspects that don't work well.
3. Create goals and actionable insights
Collecting existing customer insights allows you to identify what you already know about the customer journey. Existing customer feedback can be evaluated with new qualitative insights derived from interviewing key stakeholders and employees at all levels as well as customers representing your target personas. Intelligent text analytics that will map key phrases to emotions to allow customers to express their feelings more openly while still connecting to the wheel to identify the relevant emotions. Alongside pre-existing resources creating seamless customers, journeys should be at the top of the list for businesses
4. Consolidated view of CX
A company's digital brand presence is associated with various points, aside from social media accounts, and web pages. Businesses are creating highly customized offers in a bid to steer consumers towards their merchandise at the right time – for the right price. Customer experience dashboards provide users with a consolidated view of customer data – basically consumer habits and trends – therefore combining vital information from various sources, that offer relevant stakeholders at multiple levels within the organization a one-stop customer experience tool.
5. Systems and tools
Customer journey maps can be quite simple, however, they can evolve into complex flows that showcase various entry points and exit points. The goals may vary depending on the touchpoints, persona types, and the kinds of interactions that they have with your brand. A great way to holistically evaluate several factors as such is the introduction of the use of a robust system that offers a multitude of tools for seamless integrations.
6. Turning qualitative data into quantitative data
Quantitative data is information about quantities, basically, numbers, and qualitative data is descriptive, and regards phenomena that can be observed but not measured, such as language. Advanced analytics software assembles an offer based on real-time information – with data including location, age, gender, and online activity both historical and immediately preceding, along with the most recent responses from the user.
Conclusion 
The ability to establish empathy for your customers and identify how they're feeling at every turn is what makes customer journey mapping a powerful exercise. Customer journey maps need to be uniquely tailored to your business – its products and services and the best way forward are to in fact listen to your customers, and through that, you're creating a fundamental window for customer experience – that not only fuels customer satisfaction but loyalty too.