MX Bites / February 23, 2022
Simplicity has an unspoken elegance to it, and at first glance, it may even go unseen to its onlookers. As the saying goes, less is more, and 3Fils has succeeded at that very concept. A Japanese-inspired, with a modern twist, and a subtle influence of Arabian heritage. 
An easy stroll along Jumeirah Fishing Harbour leads you to a rare gem, or in this case, a pearl, perked at the very edge in the corner, that overlooks the silky Arabian water boatyard. Further ushering you toward a host – keen to engage in order to seat you as soon as the next table becomes available – Yes, there is a waiting time of typically twenty minutes, as it is based on a first-come, first-serve basis – a virtue of patience and worth. 
The casual flair of natural woodwork benches and stone walls do not match what the menu has to offer – except its understatement of value for money, as its dishes offer a magnitude of vibrant flavors, that just seems to work, leaving your palate yearning for more. All the while offering a comfortable, and down-to-earth ambiance with a hands-on approach, has every table both indoors and outdoors taken.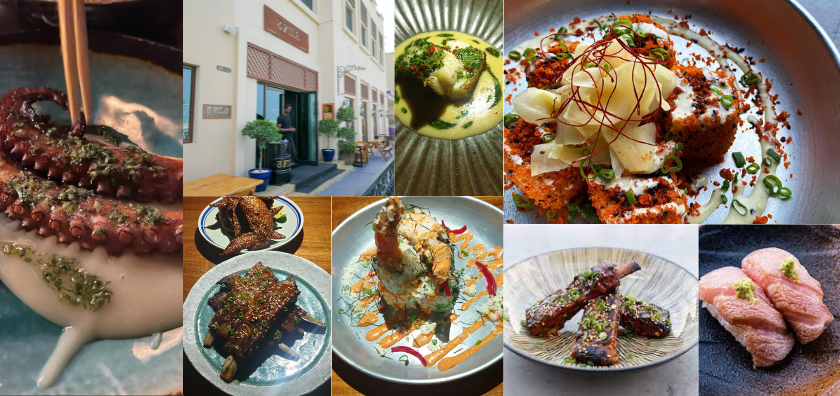 Experience Highlights
Freddy Kazadi, sous chef leads a team on their toes, exploring interesting editions to select from, spanning from unique compilations of salads, the classical burger with a wagyu edge, and what is a Japanese restaurant without sushi – all its ingredients sourced from its land. An interesting particular you are informed of is the no-soya sauce rule, the reasoning? The chef believes the dishes are perfectly constructed as is, requiring no edition of supplementary flavor- allowing you to experience each authentic element combined. 
The dishes form part of both the lunch and dinner menu and are rolled out in an orderly fashion of what has been made first in accordance with your order. Diving right into the mouthwatering salmon carpaccio, that is sensually brought to life with a ponzu sesame sauce, offering refreshing hints of sweet citrus, zesty limes, and a perfect balance of soya sauce, and rice vinegar. 
The internal essence awakened, have you turning your head, as you look on to your server in hopes it's your next dish coming out to greet you. The sushi rolls namely, volcano offers the punch as its name implies, perfectly wrapped in the 17th-century Japanese sauce – the teriyaki marinated salmon, which adds the subtle sweet flavors, and is combined with gochujang for that packed inkling of piquant warmth just hovering about paired with a final popping touch of flying roe. The spicy tuna is a welcoming sight as it's rolled out covered in ssamjang, a lesser impactful mouthful of spicy but flavorsome indeed. Delicately, drabbled in wasabi mayo driving that familiarity of hotness and comfort acquainted with sushi as we know it. 
For hot dishes, the Chilean seabass is not one to be passed upon. The sophisticated torsch of the skin will leave you marveling at it, with a graceful spoonful you are able to part the flakes of flesh, scooping up a buttery beurre blanc sauce, and the reduction of vinegar builds upon the coming flavors of mint, chili, and dill for the earthy feature. 
On to the sweeter bits, a popular order floating around is the generously scooped Karak tea-flavored ice cream. This is brought together in front of you with quite a cinematic flair. A traditional sugar cone is filled with biscuit crumble and drizzled with a copious amount of butterscotch sauce that is tossed into your bowl with the intention of it shattering – a finishing touch is the white puff of saffron cream bringing together all the flavors of a perfect dessert. 
The restaurant is an ideal spot for a quick lunch and can quickly turn into an intimate dinner for two, minus any alcoholic beverages. Instead, their most asked for is the earl gray iced tea, guava lingers on the tongue for sweetness, adding a toasty sprinkle of zaatar – requiring you to ditch the straw to grab a mouthful of the elements. 
In true form, the efficacy of words relay more than just a moment in time,  it is through thought-provoking digression that we are able to not just encapsulate an experience but express it, share it, and project it to those who gave it to us. This is the mastery behind CX, its importance, and its fundamental necessity in a world consisting of communication.